Huge Savings on All Photo Packages with our eGift Cards...
eGift Cards are now being offered via this website with an immediate 20% off any purchase.
How it works?
Select your eGift Card valued £25, £50, £100, £250 or £500 and you'll only pay respectively £20, £40, £80, £200 or £400. It's as simple as that! 

Gifts cards can be used as follows...
    •    You purchase a £500 Gift Card towards a wedding package and it will cost you only £400 but still giving a discount of £500 on the cost of your photography package choice.
    •    You purchase a £150 photo workshop for beginner later in the year but still need to schedule a perfect date for it. Buy a Gift Card of £100 and another of £50 so you got the ticket fee covered and it will cost you only £120!
    •    You are getting married in several months and you'd like to have me as the photographer to cover your big day. You are interested in a photo package costing £1250. You can buy two Gift Cards of £500 and one of £250 and voila... you are covered for your wedding and it has cost you only £1000!
    •    You'd like to have a Birthday or a Christmas family photo session costing £200... Buy two Gift cards of £100, costing you only £160, and we'll be ready to schedule the date and time for your shooting. 

Now, you can enjoy professional service and some amazing photographs at a very friendly price... ALL eGift Cards are valid for 2 years from the date of purchase so you have plenty of time if you ever wanted to buy several cards at different intervals to get the maximum discount available.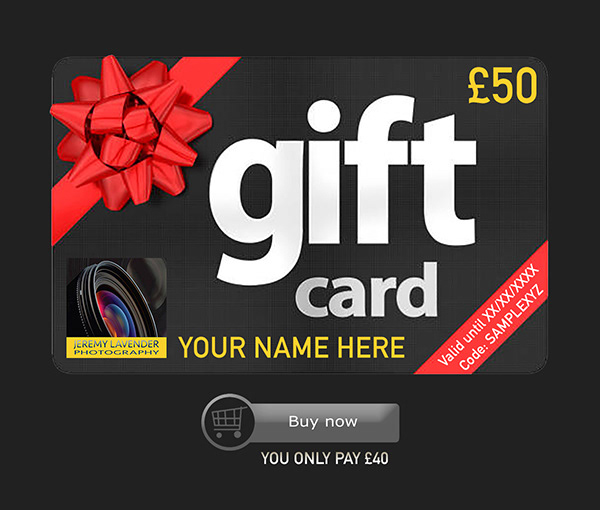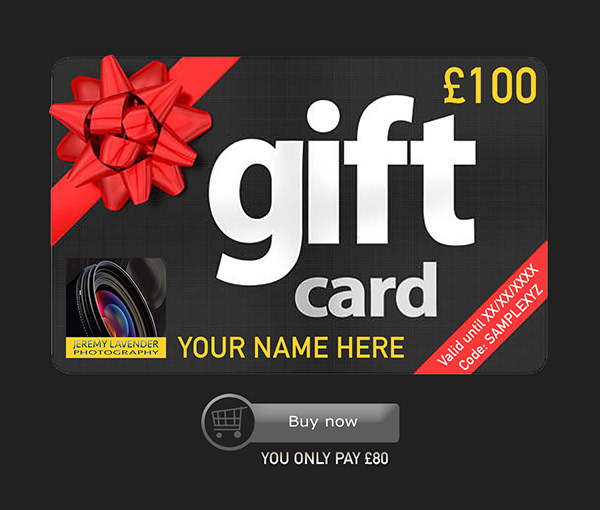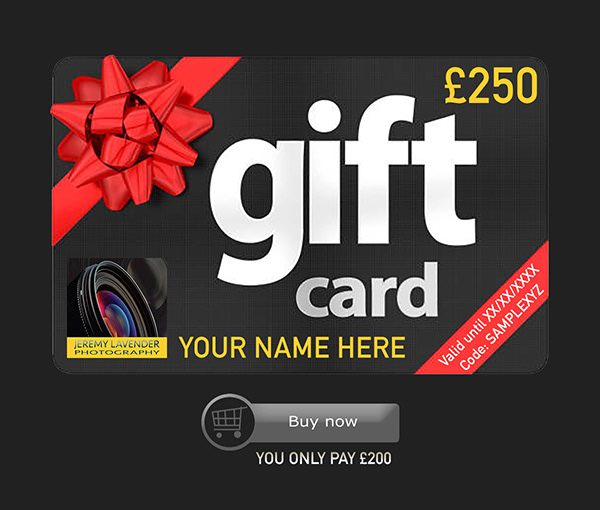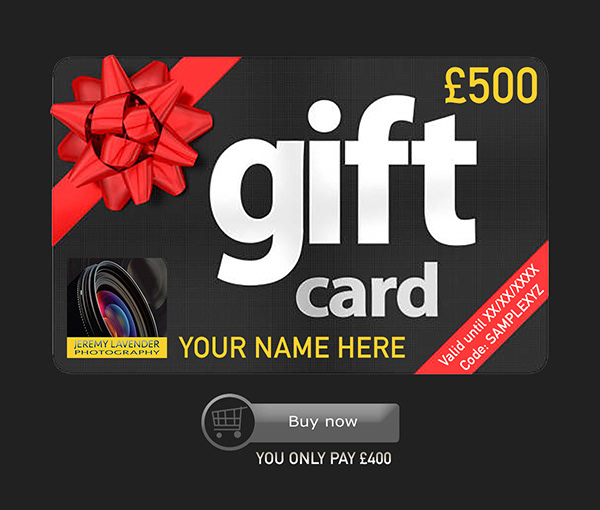 If you wish to make your payment using Bank Direct Deposit, please do contact me using the form below to receive the Bank details.
There is no refund option available for the purchased e-gift cards but they can be transferred to someone else without any problem or additional cost. You just need to send me an email to let me know the new holder's name.
Feel free to get in touch with any questions or requests you may have...
Thank you for contacting Jeremy. He should be back in touch with you no later than one business day.