Photography Workshops for Beginners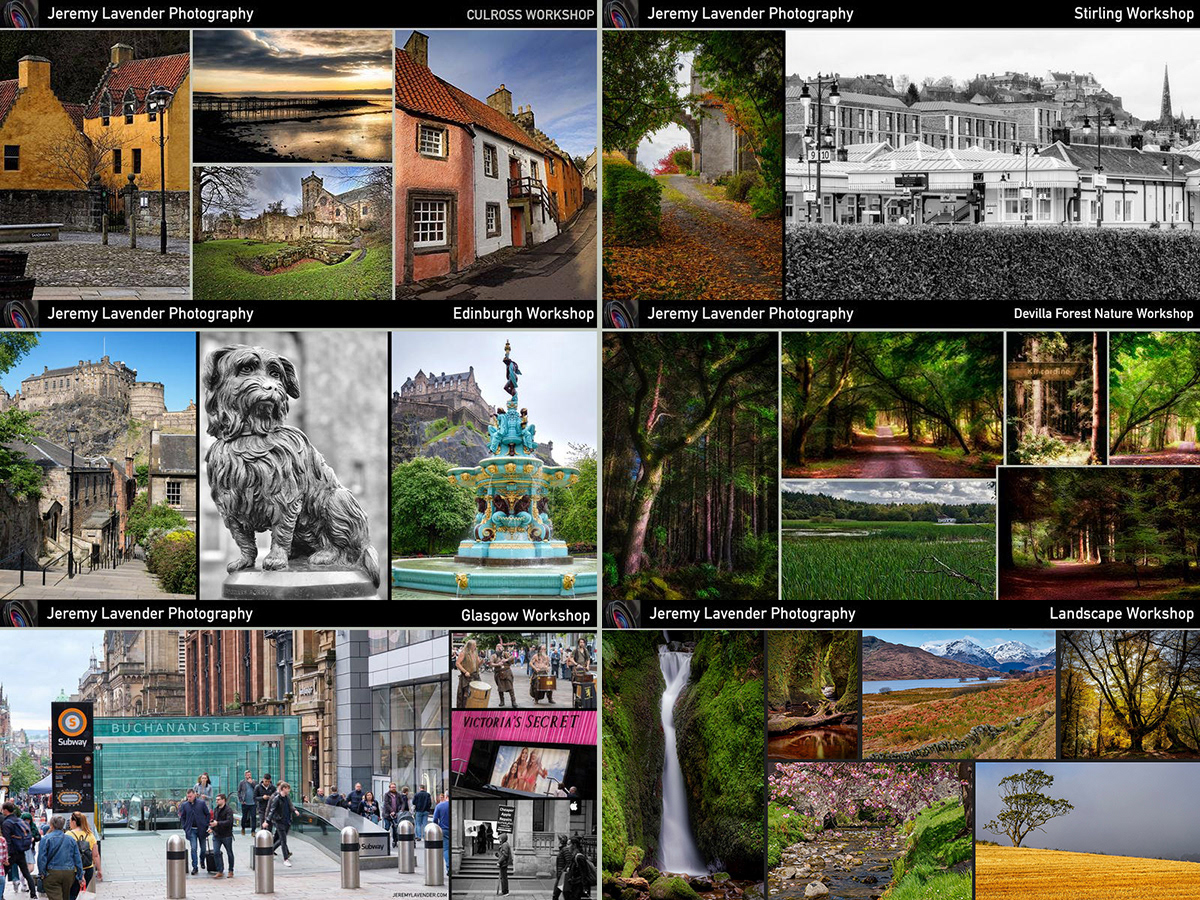 Very often, I have people looking for a photography workshop and asking a few questions then afraid to go ahead as they are not confident at all with their camera or with their abilities to create nice images. They are most of the time telling me: "I'm very bad with a camera" or "I don't know what to look for when composing a picture"…
In fact, it takes only 10 minutes of speaking with them to understand that the only missing things to make them enjoy their camera and be happy with their photographs are really simple and basic rules they can learn -and remember- while on the field for only a few hours with an experienced photographer willing to share how to set-up the camera, what to look for, how to compose an interesting image, looking for and playing with the light,… 
Just to read it on an article like this one seems very so simple but be sure of one thing; it is just like that! You can have the best camera in the world but if you don't have a piece of minimal knowledge about how it works and if no-one ever told you about it before, how could you expect to be "good with a camera"? This is NOT about you and I can assure you that.
Imagine a farmer giving you the key of his tractor and asking you to go attach a trailer on it and then to start working on the field… Well, if you never touched or used a tractor before, I do believe you'll end up saying that you are very bad with a tractor and I will answer you the same thing… Nope, you are NOT bad with a tractor. You just need a minimum of explanations and someone to show you how to use it. I do believe it goes the same for most of the situations we encounter in life.
With more than 40 years of photography under my belt, I can tell you without any doubts that all you need is willing to learn for a few hours and someone teaching you how to do so. After this first and necessary step, you'll already see a huge difference with your images. If this makes you happy, you'll use more and more your camera and practice will be the second important step you'll take. From there, you'll learn by yourself additional settings and you will create your own digital images to be proud of. 
And, if you get a bite from the photography bug and wish to go even further, remember I'll be there to help you make it happen.
If you spent some good money buying a digital camera, more than likely we can assume it was initially because you wanted to create lovely images. Whatever your previous experience in photography, it is now time to stop underestimating yourself! 
Get in touch and enjoy a friendly and easy photography workshop for beginner. You'll be glad you did!
These workshops are specifically intended to beginners in photography willing to learn how to use their camera (DSLR or Mirrorless) in the most efficient way possible. These specific workshops will be a mix of photography activities and a walk in the City and/or Countryside. Four different City locations are actually available: Edinburgh, Stirling, Culross or Glasgow. In addition to these four City workshops, there are also two others dedicated to landscape photography with two destinations to chose from: The Clackmannanshire countryside or a nature trail in the beautiful Devilla forest, in Kincardine.
With a low ticket access fee of only £155.00 (£185.00 for Landscape workshops) for the day, during these workshops you'll learn about how to use the settings of your camera, about the focusing, about the exposition and we'll practice together on different photographic activities including but not limited to "Street Life", "Architecture", "Urban Landscape" and/or "Nature Landscape".
You will not of course become a professional photographer at the end of the day but let me tell you that at these workshops, several things can be guaranteed; a friendly atmosphere, lots of fun, practical exchange of photography advices and a great variety of opportunities to create lovely images…
Each workshop is voluntary limited to a maximum of 5 participants to ensure the best communication possible with everyone.
Everything you need to enjoy your passion for photography on a stress-free day.
These workshops are available in Edinburgh, Stirling, Culross and Glasgow. Additionally, the landscape workshops will be hosted in the Clackmannanshire countryside or at Devilla forest, in Kincardine.
To accommodate everyone, the workshops are available on-demand. Get in touch to confirm a date for your individual workshop.
Usually starting at 11:00AM and ending at 4:00PM. Landscape workshop might be a bit longer (1h to 1.5h longer) depending on location and weather.
How to book your workshop?
You can make an easy and fast payment through Paypal to secure your booking first. After receiving your payment, I'll get in touch with you by email within maximum 1 business day to confirm your workshop requested date and location. If needed, you may also want to send me a message using the form at the bottom of this page.
Please select your booking choice below:
*** A FREE GIFT FOR YOU ***
​​​​​​​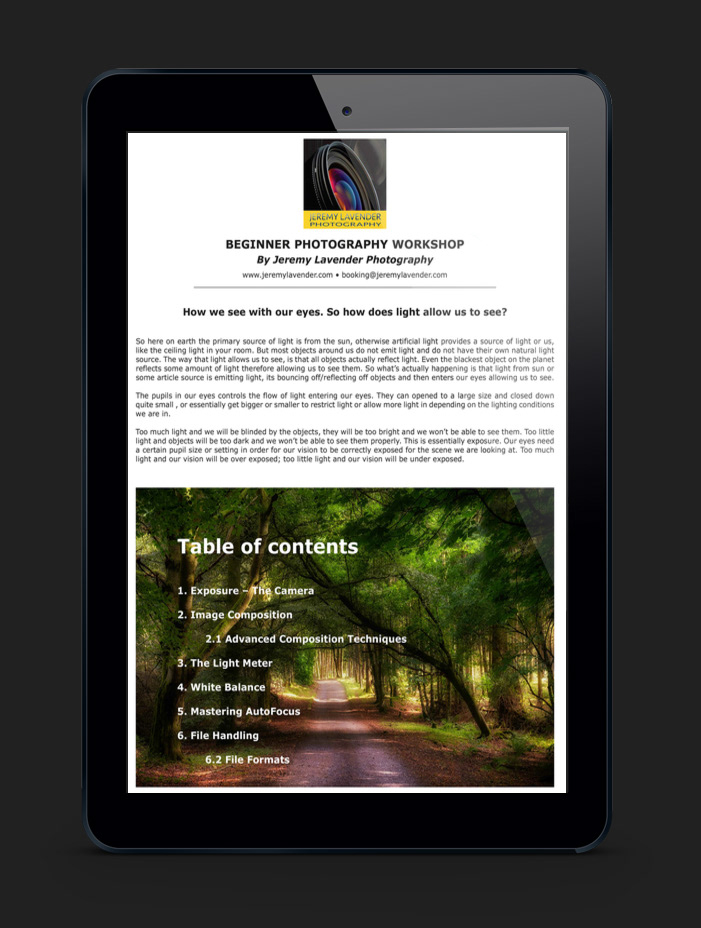 When booking a workshop, you will be offered a FREE eBook teaching you about the followings:
     1. Exposure – The Camera
     2. Image Composition and Advanced Composition Techniques
     3. The Light Meter and The Exposure Triangle
     4. White Balance
     5. Mastering AutoFocus
     6. File Handling and File Formats
This eBook will be send by email as soon as I get confirmation of your booking so you'll have time to read it before the workshop and, when meeting, you can ask any question you may have about its content. Additionally, it will be a great support to come back to at any time during your photographic journey.
Looking forward to meeting you in or around Edinburgh, Glasgow, Stirling, Clackmannanshire, Kincardine (Devilla Forest) or Culross.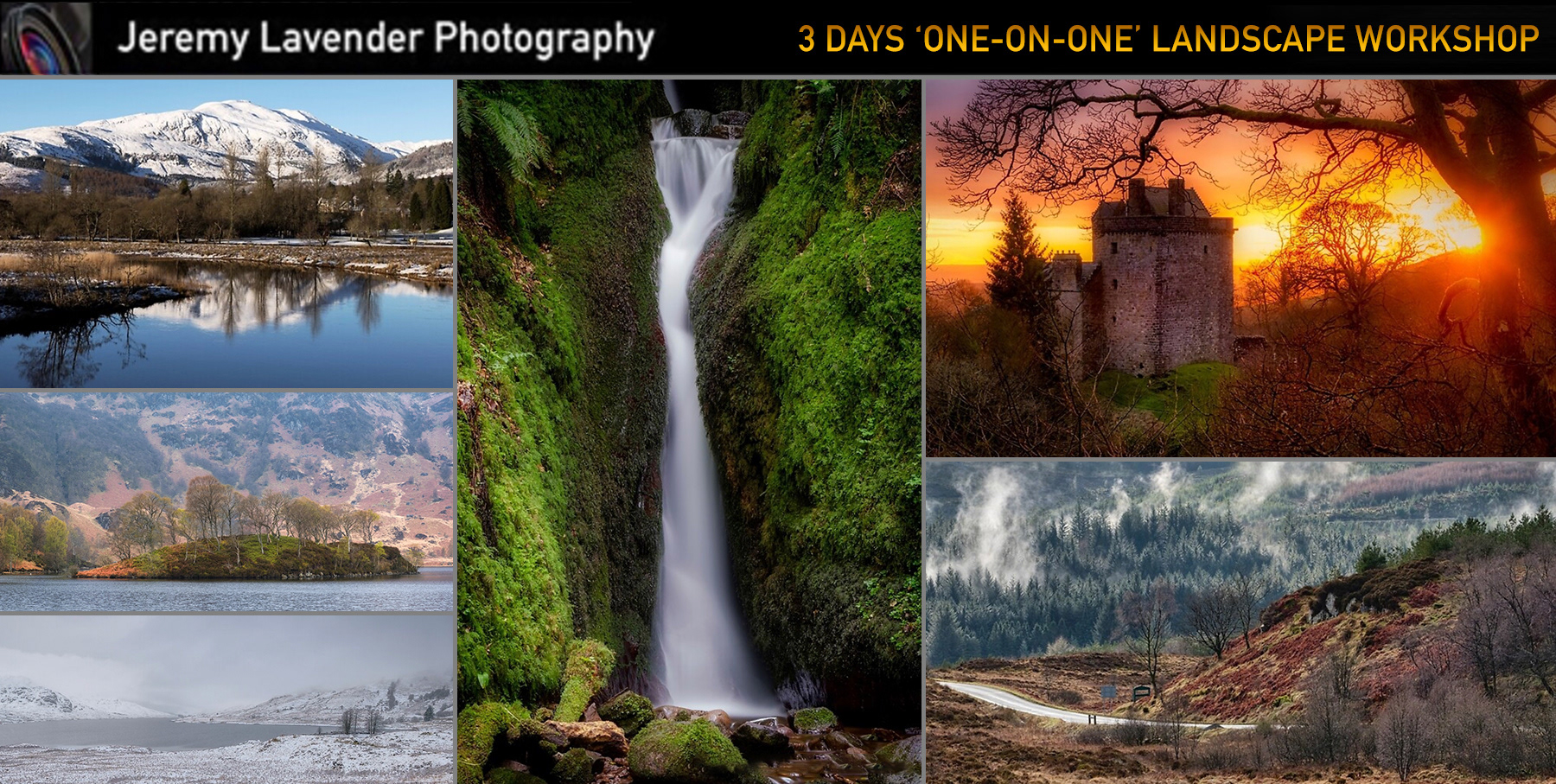 Please, do get in touch for any question you may have or to confirm a date for your workshop...
Thank you for contacting me. I'll be back in touch with you within maximum 1 business day.